3918 days ago (Filed under: News )
The most powerful political party on current Czech political scene has just held a major congress, one that should set its direction for years to come. It brought several very significant events.
First, the founder, the brain, and the soul of the Party, President Klaus, cut his ties with his creation. The relationship between the party, lead by Mirek Topolánek, and the Prague Castle, was increasingly problematic. Klaus never liked the PM, he saw him as far too pro- European and not committed enough to the mission of the free trade. Since all indicators have been showing that Topolánek will keep the seat, the President decided he's had enough.
Pavel Bém, the very controversial Prague mayor and Klaus's protégé, challenged the Prime Minister. Although he is popular and had a substantial section of the Party on his side, Bém lost. There are many reasons why, but the primary may be that he didn't really manage to offer a conception, he failed to say what exactly was he going to do. Would he keep the coalition government? Would he go for a minority government? Who would he like to work with? What would he do with the economic reforms? We don't know, all we know is that he would like the Party to its more right- wing roots and that he's against the Lisbon Treaty. Being radically right- wing may not be the wisest thing to do, with prizes rising and the financial crisis storming around the globe and even the ODS voters show to be very pro- European. So who was he planning to amaze with this strategy? I don't know, all I can say is that I expected more foresight and smarter tactics from the experienced "bureaucrat".
Now Topolánek may go on with the coalition and with the centre-right agenda. The party remains divided, part of it is clearly loyal to Klaus and decidedly anti- EU (no, not just "euro-sceptic") and against any features of welfare state. This is a section which may damage the party and the government, since, apart from being too aggressive and ideological, these thoughts will hardly be popular.
The first man in the party, just below the chairman is now David Vodrážka, a newcomer to the top level politics. His election was quite a surprise. Recently he attracted some attention in relation to the sad case of Kaplický´s National Library. Mr. Vodrážka called the building- to- be a green spit and later offered a building site in Stodůlky. That is not a good sign. Someone, who suggests a public library should be placed on the edge of the city, far from the center, accessible only by underground, and on quite a mediocre spot, may not have a very cordial relation to public institutions. It is not only arrogant, it corresponds with the view that libraries, theatres, etc. need not reach out to the public. Everything works- or should work- according to the rules of the market. So if you want a library, take an hour journey.
But one should not forget that every politician, especially at the beginning of his/her career, tries to attract attention. Mr Vodrážka may turn out well, while Mr. Bém we know well enough. So, for the centrists and the right- wing moderates, the convention was a success.
* * *
3974 days ago (Filed under: Prague events )
At the moment, there is a very interesting exhbition being held in an Art gallery in Clam-Gallas Palace. Clam-Gallas Palace is a beautiful buliding in a barroquian style, situated in Husova Street nr. 20, in Prague 1, in the Old Town, not far from Marianske Square (that one with the main building of the Municipal Library). And in the Palace, there is a quite good Art gallery, where often are held good exhibition. At the moment, there are two of them. One is called Vojtech Preissig – Za republiku! (which could be translated into English as "For the Republic!"), the other one is called Praha – Norinberk/Prag – Nurnberg. Both of them are finishing on 28th of October, so if you want to see them, you should hurry up.
Those exhibitions are not extensive, but they are very interesting, especially that one which shows works by Vojtech Preissig. Vojtech Preissig was an important Czech artist of the first half of the century. He was born in 1873, and later became famous expecially as a graphic Artist, but he also dedicated a lot of his time to typography, ilustration and painting. He spent some time in Paris, then he had his own studion in Prague, but because of some financial troubles, later moved to the U.S., where he was even teaching at Columbia University. Later, he came back to Prague again.
He was a strong patriot and was devouted to his homeland, which he tried to help also through his artistic work. So this special exhibition is held to the 90th anniversary of the creation of Czechoslovakia and presents this particular part of Artist's wide range of work. He did a lot of postcards, posters and other materials which should help to fight for the good of the Republic. He even did some proposals for the flag of the new state. It is interesting to see it, they quite differ from the actual flag. But what is same, are the colours, as red, white and blue are consider as traditional colours for this country. But on the Preissig's flags you can find for example four strars – one for Bohemia, one for Moravia, one for Silesia and last one for Slovakia. There is much more to be seen on the exhibition, for example posters he did during the first world war for the U.S. army, to recruit new soldiers, and many other works.
Preissing kept being a strong patriot also during the second world war, which cost him his own life. As a member of an illegal resistance group, he was participating in a publishing of an illegal magazine, cooperating with his daughter, a journalist Irena Bernaskova. In 1940, he was arrested by gestapo, taken to concentration camp Dachau, where he died in 1944. But a lot of his beautiful works survived after him.
Another exhbition which is to be seen is dedicated to contemporary artist from partner cities Prague and Norimberg. If you visit both exhbitions, you will get a sale.
* * *
4043 days ago (Filed under: Chapters from history )
This event definitely belongs to one of the saddest in the Czechoslovak history. This year it has been 40 years since that terrible moment when Czechoslovakia was invaded by its allies – GDR, Poland, Hungary, Bulgaria, and the USSR. A vast number of the troops were, however, from the USSR.
On August 21st 1968, just few minutes after midnight, the numerous army of Warsaw-Pact crossed the Czechoslovakian borders. The Czechs and Slovaks all over the country were woken up by the unusual noise of riding tanks. Thousands of tanks. They said they came to crush down the counter-revolution in the country. They called it a "brotherly help". How nice of them!!!
The Soviets simply didn't like the idea of Prague Spring at all. They feared that the pro-democratic reforms which had been introduced in the Czechoslovakia and even more pro-democratic feelings of the broad public could result in weakening of Soviet's position in the Czechoslovakia, and then maybe in other parts of the Eastern Block. Moscow didn't want this to happen, of course.
So they intervened and showed the entire world that there is nothing like a sovereign state in the Eastern Block. The Czechoslovak country was being occupied by its savior from the 1945.
* * *
4049 days ago (Filed under: News )
For few months already has the first restaurant in the whole Eastern Europe (if you still consider the Czech Republic to be part of the Eastern block) been rewarded by the Michelin Star. It is a historic moment for all gourmands of the world. Why?
Michelin has been evaluating restaurants for quite a time. The criteria are various, but the most important thing is the taste of the food that is being served there. People who are responsible for the ratings visit restaurants several times. And always anonymously.
For a restaurant, being given a Michelin Star is like to get an Oscar for an actor/actress. It means that the restaurant is serving food of outstanding quality. You can be sure that in any restaurant which was awarded a Michelin Star, whatever you get will be delicious and unforgettable.
The Top Michelin-rated restaurants receive from one to three stars. One star is for a very good restaurant in its category. Three stars mean, of course, the best of the best.
The first Michelin Star in the Czech Republic was given to the Allegro Restaurant in Prague, which is an Italian style restaurant. This restaurant is situated in Four Season Hotel, located at Veleslavinova Street. It is near Rudolfinum Gallery and metro station Staromestska (green line A). Lunch costs from 1 000 CZK up, but I guess it is worth it.
Moreover, three restaurants were also awarded by Michelin with "Bib Gourmand", meaning restaurants offering good food at moderate prices. Who wouldn't like to eat delicious meals for a good price? However, the word moderate can be a bit tricky. The prices of the food served in those restaurants are still a bit higher that average prices in "normal" restaurants.
So what are the three awarded restaurants? One is called Aromi, and is located at Manesova Street, near subway station Jiriho z Podebrad (green line A). The second is called Brasserie M. This is a French style restaurant and can be found in Vladislavova Street. It is best reached by trams 3, 5, 9, 14 or 24 (station Lazarska). The nearest subway station is Narodni trida. The last but not least, is the restaurant Le Terroir at Vejvodova Street not far from subway station Mustek. Bon apetit!
* * *
4050 days ago (Filed under: Architecture )
Prague councillors want the Masaryk Railway Station in Prague to be closed. This station is located quite close to the Main Railway Station and thus is not that necessary as trains can stop there instead. And it often also work that way, that trains stop first on Masaryk Station and then on the Main one. But as both are located in the city centre and there is good public transport here it is probably not necessary to have two stations so close to each other.
But if the Masaryk Railway Station will be closed, what will be put on its place instead? The old historical buildings itself are a cultural heritage, so as such should not be destroyed. And the proposals for using this object are various. One of them, proposed by National Technical Museum, was to make it a museum of railways, but it was rejected by Prague councillors who are responsible to decide how to use the space. So then there could be flats, but also shopping centre or administrative buildings… final decision about cancelling the Masaryk Station should be made in the half of September. Lets hope that if they decide to close it, the place would be then used properly at least, but still, Prague would lose something special – when the first train came to Prague, on 21st of August 1845, it stopped on the station which later became the Masaryk Railway Station (named after the first president of Czechoslovakia ).
* * *
4097 days ago (Filed under: Prague events )
Those of you who have come across the Namesti Republiky (yellow line B) know it already. Right there, just few steps from the famous Municipal House, just in front of the new Shopping Mall Palladium, is an amazing photography exhibition.
It is an open air happening and it is for free. Great, isn't it? Does it remind you something? Maybe the exhibition "The Earth from Above"? Well, you are not far from the truth…
The pictures presented at this exhibition are truly marvelous. They are all quite large photographs of animals from all around the world. From caterpillars to clownfish, from lions to monkeys; it is all there for you to admire. It is really beautiful to see how colorful and wonderful animal creatures are.
However, the "Alive" exhibition is not "only" an exhibition. It is much more than just bunch of nice pictures. The "Alive" exhibition tries to point out how fragile and endangered wildlife is these days only due to human actions. Together with pictures of animals, there are presented facts and figures of how the global environment has changed over time, bringing numbers of species soon to be extinct if we don't act differently.
The key reason of this great exhibition is not to publish more really stunningly beautiful photographs of wild animals, but rather to enhance public awareness of sustainable development and that living in harmony with the nature is possible. Every one of us can make a difference so every one of us must be the "changer". There are things in our lifestyle that we can change in order to be "greener" and friendlier to our environment.
So… Be the change! Recycle! Save energy! Use public transportation instead of a car! Walk instead of drive! And… Visit this unique exhibition!
Spot-on comments [1]
* * *
4119 days ago (Filed under: Prague events )
Do not miss this unique chance and visit museums in Prague at night. This event is truly extraordinary. Not only are nearly all museums in Prague open at this rare hour but you can get in there for free! Yes, this is no mistake – Prague Museum Night means great exhibitions for free at special opening hours. So make sure you don't miss it!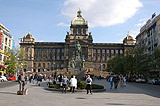 So when is it? This year Prague Museum Night takes place just today – on June 14th. It starts at 7 pm and the museums will be open for you till 1 am. And yes, you don't have to pay a thing since on this very day it is all for free. And where is it? That's easy – in nearly all museums in Prague, starting with the National Museum, and followed by Jewish Museum in Prague, National Technical Museum, Museum of Decorative Arts, City of Prague Museum, Museum Kampa, and so on.
What's more, as if this was not great enough, not only museums but also galleries in Prague will be open for free this very night. Just to name few – National Gallery in Prague, City Gallery Prague, Galerie Rudolfinum and many more. Not to mention that in many museums and galleries there will be additional program as well such as concerts, theatre performances and much more. Just come and see.
I would like to point out one more positive thing – to make the traveling between the museums easier, the Prague Public Transportation Company arranged special bus lines which will link all galleries and museums in Prague, and yes, for free again. The central transfer point will be at the square Namesti Jana Palacha, near the subway station Staromestska (green line A). From there you will be able to get to all museums and galleries you want.
Don't worry that you will not get home since even the subway will exceptionally run till 1:30 am. So enjoy the Museum Night in Prague!
Spot-on comments [1]
* * *
4127 days ago (Filed under: Culture )
As you have maybe already noticed, 8th of May is the day of national holiday in the Czech Republic. It is the free day, when most of the people do not have to work. This year it comes on Thursday, so a lot of people also take Friday off and go out of Prague for few days, to visit the country. But what else means 8th of May for Czechs beside its being a day off? And how was its history?
On 8th people are remembering the end of the World War II, it is the day of liberation from fascist, who ruled over this country for 6 years. As the over of the World War II is generally accepted the capitulation of German troops, which came into acceptance on 8th of May at 23:01 of Central European time. In Moscow, they are one hour ahead, so there it was already one minute after midnight. That is why in the majority of European countries is as the day of victory or liberation (dependent on the status they had during the war) regarded 8th of May, while in Russia and former USSR countries it is 9th of May. Well, but it should not be forgotten, that the capitulation of Nazi troops did not immediately mean the ends of all fights.
In the first years after the infernal war, there was no official holiday remembering its over. The government was not able to agreed on the day when it should be celebrated. Some ones wanted it to be on 8th of May, other ones on 9th of May, but the president Edvard Benes even wanted it to be celebrated already on 5th of May, the day when started the uprising in Prague.
The parliamentarians finally made it official only in 1951. But in these times, Czechoslovakia was already ruled by the communists, who did many "rewritings" of the history. So as the national holiday was announced the 9th of May, as the "Day of Czechoslovakia´s liberation by the Soviet Army". Sadly, the liberators of Allies and partisans were to be forgotten, people were supposed to give honors only to the Red Army.
Very very soon after the fall of the communism, the holiday was renamed. Instead of "the Day of Czechoslvakia´s liberation by the Soviet Army", it became "the Day of the liberation from fascism", so it finally did not exclude other liberators. And already in May 1990 a parliamentarian Milos Zeman, later prime minister, came up with the idea that the holiday should be moved on 8th of May. First time his suggestion was not accepted, but he did not give it up and next year it was. But it was widely discussed in the country. Later some ones brought the idea that fascism was also in Italy while in Germany and occupied countries it actually was National Socialism. So in 2002 the name of the holiday was shortened to "the Day of the liberation". But the changes were not finished yet. In 2004 the name was changed again, this time to "the Day of the victory". Maybe, it is better to feel like the victor then the freed one, although Czechoslovakia actually was liberated. And in many calendars and diaries, they still write it as "the Day of liberation".
Regardless how the holiday is called, most of the Czechs take it as a nice day off. But there are also costume parades, when people dressed as soldiers playing some events of that times remembering this way the over of the war. And usually there is broadcasted something related to the topic on the Czech television as well.
* * *
4162 days ago (Filed under: Culture )
Prague is definitely a very beautiful town. It has amazing history, beautiful monuments, fascinating streets, cool pubs with delicious beer, many art galleries, lovely parks, as well as good public transport and lots of shops… an ideal place for a visit. But is Prague a perfect city? Definitely not, as any other one, it also has its mistakes. Notoriously known are Prague taxi drivers, who often try to dope you and ask you to pay them more money then you should according to official price lists. But you may read warnings about them in many Prague tourist guidebooks. Then there are also pickpockets – the warnings about them hang in Prague public transport – buses, trams and metro trains as well – both in Czech and English language. Maybe you already have noticed "Better safe then sorry" as says the English version of yellow-red warning sticker in the public transport. So those are two main "little sins of Prague", about which you should be informed before your arrival and be aware of them. But such things happen not only here, but also in many other cities. So only them cannot make Prague to be a sin city.
The problem is that in the town are occurring other filths – there are casinos and winning automats and there are brothels as well as street prostitution and drugs. It should be said, that those are not the problem only of Prague but of a whole Czech Republic. But this blog is mainly about Prague, which is also the most attractive location for tourist out of the whole Czech Republic, so lets stay here. Because of the casinos and prostitution my ex-boyfriend once called Prague a sin city. So lets have a closer look on the situation of Prague in those fields.
The true is that there are so many casinos and "hernas" with winning automats as almost in any other place, so Prague is sometimes even called as "Las Vegas of Europe". The casinos and winning automats are pretty big problem, because many people can became addicted to them, and according to the latest researches, one addicted person can be a troublemaker for up to 12 people in his/her surrounding. Hazard addiction can obviously cause not only personal problems, but also family crises. This is mostly the problem of winning automats, which are also installed in many Czech pubs. "Ordinary people" do not visit casinos that often, as it often requires a bit better clothing and "style". But many Prague casinos are said to be "laundries of dirty money", and that they are owned by mafia. The true is that in many other countries the gambling is either illegal or they do not have at least so many gambling places as there are here.
And about the prostitution, as the so called "the oldest job", it probably exists almost anywhere. Famous is a way of the Netherlands, where they made it even legal. So they at least forced them to pay taxes and prostitutes have to go for medical check-ups. In the Czech Republic, the prostitution is officially illegal, but everyone knows it exists here. There are brothel houses which may look as a cabaret from outside, but when you walk inside, you are pretty sure what is the place actually is. And there are also those infamous street prostitutes, who are often not Czech, but (often illegal) immigrants from other post-communistic countries. Not so long ago, there was a big affair with them, as they were often aggressive to men and tried to force them to use their services. But police took over them and the situation is much better now.
So is Prague a sin city? A bit yes, but it also has such beauties, that it would be a pity not visit it just because it, because Prague is definitely worth of seeing.
* * *
4168 days ago (Filed under: Advice )
Brno is, with its population of approximately 367 000 of inhabitants, the second biggest city in the Czech Republic. It is the unofficial capital of Moravia, there are important universities, the seat of the Czech highest court, and there is a lot to see for tourists. Lets have a brief look what.
There is the old castle Spilberk in the city center, close to the main train station. Spilberk was founded by the Czech king Premysl Otakar II. in the middle of 13th century. Czech kings used it from time to time, in 1337 the castle became the home of Blanka of Valois, the first wife of the famous king Charles IV., after she was forced to leave Prague. Soon after that, the castle became the resident place of Charles´ IV. brother Jan Jindrich and later his son Jost, who were quite poverfull rulers of Moravia. Castle was later used also as a prison. In 1783 here Josef II. a civil prison for the most dangerous criminals, which was later used also for "political" prisoners. Also Nazis used Spilberk as a prison for Czech patriots, but most of them were later transported to concentration camps. After war, the castle was shortly used as a basement of Czechoslovakia army, but they left the place in 1959, and since then, there is a museum. In the Spilberk court are in summer often organized numerous shows, as theatre or swordsmen fights. The castle is a nice place for a family trip, you can visit the interiors and museum exhibitions as well as to go for a walk to the beautiful park around it.
Another places of interests are Saint Paul and Peter cathedral on Petrov Hill, probably the oldest church in Brno, founded in 12th century, now built mainly in late gothic style or the old Brno city hall, also late gothic. The worth of seeing is also Svobody Square with the baroque style plaque column from late 17th century. Square is sometimes filled with (Easter, Christmas and other holidays) markets.
Outside of the city center, there are the Zoo and the reservoir, both are ideal to visit when the weather is nice. And there is also villa Tugendhat, which is a very famous piece of modernist architecture by Ludwig Mies van der Rohe, one of the most important functionalist architects. Luxurious villa was built for a wealthy Jewish Tugendhat family in 1930, who had to leave it soon because of the World War II.
Those are "highlights" of Brno, but there are obviously other things to see, as Moravian Gallery with rich collections of Art, various churches, parks and so on.
There is quite good public transport between Brno and Prague. You can go by bus, and there are few companies among those you can choose. The travel by bus takes about 2 and half hours. But bus goes on D1 highway, where are quite often car accidents, so sometimes you may get stuck here and arrive later. And if you decide to drive on your own, it is necessary to drive carefully. Another option is to take a train, that is more expensive, but also more comfortable. Fast train is in Brno in 2 hours and 42 minutes, special train Pendolino then even in 2 hours 26 minutes.
* * *
4174 days ago (Filed under: Prague events )
For all those, who are interested in literature, there is one very interesting event, which will be held in Prague from 24th until 27th of April this year already for 14th time. It will take place in the Industrial Palace in Holesovice Exhibition Grounds, which is in Prague 7, Vystaviste tram station, accessible by trams numbers 15, 14, 12 and 15.
The Book world Prague is an event, which is held every year. The publishers present here what they publish, writers sign their new works, there are various workshops and importantly, dedicated readers and book lovers have an opportunity to see what is new in the world of literature, they can buy new fascinating books and also meet and chat with their friends of the same interests. The Book world has specific main themes every year. This time they are following – Love and Passion in Literature, Book and Lifestyle and Egypt – 50 years of Czech Egyptology, plus Literature written in Spanish language, There is also a guest in honor – this time it is Spain, so special programs dedicated to the Spanish literature are being prepared. There will be held the conference called Kafka and Borges, dedicated to those word famous writers, even the widow after Jorge Luis Borges, Argentinian writer and translator Maria Komanda de Borges, is to visit Prague. On the whole, there are announced almost 500 quests of the Book world 2008, 51 of them from abroad.
There also will be held already the 7th annual of accompanying program called Book world in the film, starting already on 14th of April – there will be special screenings of film adaptations of literary works in Ponrepo and Atlas Cinemas and also in the Prague French institute and in Vystaviste. And there is the 5th annual of similar program – Book world on the stage, which will present theatre adaptations of literary works.
So if you are a book lover, you may think about visiting the event. The most of the books there as well as program will be obviously in Czech, but there are also will be to found some books and events in other languages, this year mainly in Spanish, but English will be also present here a bit. Plus, it may be interesting, how Czech literary scene looks like.
More information about the Book world 2008 is to be found on www.bookworld.cz, site works both in Czech and English version.
* * *
4176 days ago (Filed under: Architecture )
The contemporary perception of a historical object is somehow special and it differs from various approaches exercised in the past. Remains of the past times are always hard to deal with: you may either treasure them for being products of an age that is gone or you can destroy them so that they don´t occupy precious space that can be used for the new. The first approach requires the shared view of those responsible that we should care about history, connect to it, try to understand it. If there is to be a connection, it makes perfect sense that our environment should share some of the environment of our ancestors. This has its limits of course, otherwise we would have to live in a giant museum. The approach agreed upon is based on delegation of certain people who decide whether an object, apart from being historical, is also valuable in terms of artistic quality, technology, etc., whether it is useful enough. The goal is a responsible proportional share of the historical and the present or even futuristic. Because respect for the old can easily be conflicting with an excitement for progress, novelty.
What I find interesting is the fact that observing the old objects became a sort of a positive fetish, or at least a source of excitement. The sight of people queuing in front of something 500 or more years old is extraordinary in a way. Mainly because it is a somewhat new element, a product of the past, say, two centuries, if we ignore the medieval rulers´ craving for antique objects, which is a different matter. Old buildings and objects provoke emotions: pride, nostalgia, wonder… and they create an illusion of a connection with history. As a tourist, one does feel, by paying a visit to its main antiquities, that he or she forms a connection with the past of the place, discovering its character as a result. It is an illusion of course, because you can never understand a place by simply looking at its foundations and it all may be more about self- satisfactory feeling of being "cultural", but it does make sense and its consequences are mostly positive. There are many ways to interpret the trend, but what we may observe as its result is preservation, care for the historical objects.
* * *
4192 days ago (Filed under: Prague pubs, restaurants and cafes )
Restaurant Zlaty rozen (which in English means Golden spit) is located on the border of Prague districts Dejvice and Bubenec. This is not in the city center, but not that far from it and both those districts has its beauty so you may find yourself here one day. And one of the top restaurants in this neighborhood is Zlaty rozen.
The restaurant is situated in Ceskoslovenske armady (means Czechoslovak army) street number 22. It is in short walk distance from Metro stations Dejvicka and Hradcanska (green line). The house was built in 1929 and since then there was always the restaurant. Only in the beginning of the 1990´s it was shortly closed, but just it was later renewed with style. The nice interior recalls to the past of the restaurants, walls are decorated with old photographs.
What to order here? The place is both suitable for having here just a beer (or another drink) as for coming for lunch or dinner. Their specialty is that they offer beers of Cerna Hora (Black Hill) brewery, which tradition dates back up to 1530. For some beer lovers might be interesting to try it. Historical illustrations, samples of historical brewery equipments, beer recipes and so on are also to be found here as a decoration. But if you do not like Cerna Hora beer, you can order popular Pilsen instead or of course some non-alcoholic drink. They have some traditional Czech dishes as well as other alternatives as pasta or salmon steak. From traditional Czech meals you can try here for example Beef Goulash "Cerna Hora" or meal called Czech Mix, which is Roasted pork, smoked tenderloin, sausage with potato pancake and dumplings. Or maybe just something small to accompany your beer, then it may be potato pancakes with sour cabbage or pickled Camembert cheese. And they obviously offer a few desserts (although not a wide range – only four in fact) for those who feel for something sweet.
Zlaty rozen is also a place, where important sport matches are screened on the big projection. This may be disturbing for someone, another one comes especially because of it, it depends.
* * *
4197 days ago (Filed under: Advice )
Women always want to look great and they want to attract their husbands, boyfriends and other males. Men also want to attract their beloved girlfriends and wives. There was a great opportunity for everyone to come to the spring exhibition of World of Beauty and Spa. This event took place from February 29 to March 1, 2008 at Vystaviste Holesovice in Praha 7. The visitors could indulge into trends for the coming spring season in make-up, cosmetics, nail art and nail design as well as hair styles. And there were much more surprises waiting for the visitors! The Vystaviste hall was divided into left and right wing where different stands were situated. The left wing was devoted to hair and nail cosmetics. The right wing offered a variety of cosmetic products, displays of tanning facilities and feet care cosmetics. One of the highlights of the exhibition was the Wellness and Spa project.
The main stage was devoted to various presentations of top designers, professional hair stylists and great make-up artists. Well-known hair stylists from countries such as Italy and Switzerland were creating the haircuts and combings of model's hair. They were very successful with their hairstyling acts, and they deserved the applause from the audience. Fashion show of Art Deco Style by Pavel Krivanek was a great success. His models of clothing were unusual and inspirative especially for rock style lovers. Make-up artists also had the opportunity to show their sense for creativity and mix of various colors. They could participate in the junior's contest of make-up art. They demonstrated their fresh and spring make-up creations on models' faces.
Wellness and Spa centers presented different types of aromatherapies and massages. We could see the examples of Hawaiian, Thai, flask massages as well as Champi massage of head. Let's have closer at these specific types of massages. Flask massage is the ancient Chinese technique for massage of shoulders and neck. Hawaiian massage constitutes of tender and continuous techniques from Hawaiian islands. Champi massage of head is traditional Indic massage with anti-stress aromatherapy.
The exhibition displayed various trends for wellness, spa, make-up, hairstyles and nail arts. It was exciting to see all that. However, I was a bit disappointed with the overall design of the stands and the main stage. The exhibitors could spend more time preparing their stands and the main stage in order to make the appearance more professional and sophisticated.
If you missed the opportunity to visit this beauty exhibition, don't worry, there will be the Autumn World of Beauty and Spa on September 19 to September 20, 2008.
* * *